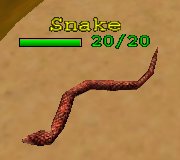 Note: This creature can Poison!
Statistics
Edit
Attack/Defense: 18/9
Health Points: 20
Mana Points: 56
Ignore Level: N/A
Summonable: Yes
Respawn Time: 52 Seconds
Achievement: Low
Locations
Edit
White Stone
Desert Pines
Portland
Tasengaard
Morcraven Marsh
Naralik

Red Snake Skin
(1)
Rare Drops
Edit

Red Snake Skin
(1)

Raw Meat
(1)

Bones
(1)

Life Essence
(1)
Ad blocker interference detected!
Wikia is a free-to-use site that makes money from advertising. We have a modified experience for viewers using ad blockers

Wikia is not accessible if you've made further modifications. Remove the custom ad blocker rule(s) and the page will load as expected.